Office phone booths are a huge part of modern office infrastructure, providing a quiet place to concentrate, escape the noise, and get work done. Companies around the world, like Apple, Amazon, Spotify, and more, have turned to office phone booths to revolutionize their office space. However, not every booth is identical, with different models having distinct sizes, specifications, and floorplans. 
In order to find the right office phone booth for you, you'll need to know a little more about their sizes. After all, nothing is worse than ordering something that doesn't quite fit correctly in your office space. Especially considering the large range of benefits of office phone booths, you want to get these into your office and correctly set up as soon as possible.
In this article, we'll move through office phone booth specifications, exploring how big office phone booths are, how much room you need, and which sizes will work best for your office space.
Let's dive right in.
What Are the Standard Sizes of Office Phone Booths?
While several types of office phone booths are available, the most commonly used structure is designed for one person. With over 58% of high-performance workers needing a quiet place to complete their work, it's hardly surprising that private office phone booths are so popular.
For a standard phone booth, like our Soho  model, you can expect the following dimensions:
Exterior     H: 2250 mm    W: 1000 mm    D: 1000 mm
Interior      H:2040 mm     W: 926 mm     D: 938 mm
Shelf         H: 1100mm       W: 926mm      D: 328mm
Base         H: 50mm          W: 1040mm     D: 1020mm
The standard size of an office phone booth requires ceilings of at least 2400mm high. A ceiling higher than 2400mm will ensure that the phone booth can fit within the office without any problems. 
Another thing to note is that the MEAVO phone booths are considerably more space-efficient than other models on the market. We maximize workspace room within our office phone booths, ensuring that workers have as much space as possible to focus on their daily tasks. 
What Space Requirements Should You Consider When Installing Office Phone Booths?
When installing office phone booths, you should first assess your current office workspace to determine whether or not you have enough space. Although the dimensions of office phone booths allow them to fit neatly into offices, if you're already struggling for space, they may only add to the problem.
Here are some considerations to think over before installing an office phone booth:
Minimal Space Required:

Each office phone booth has specific spatial requirements that are often slightly larger than the workstations themselves. This extra room ensures that you can install and maneuver the pods into position without running into any problems.

Number of Office Phone Booths:

Depending on the size of your office and the number of employees you have, you'll need to order a distinct quantity of office phone booths. Each office phone booth you order will take up more space, meaning you should check the dimensions of your office to ensure they'll all fit.

Purpose of Office Phone Booths:

If you want to boost productivity, then single-person office pods will work well. Alternatively, if you want to foster collaboration, then

multi-person pods

will work better. Depending on your specific needs, the total amount of space the pods you order will occupy will vary. 
Across these three areas, you'll be able to develop a clear understanding of the space requirements you should consider.
Office Booth Dimensions (Per Product)
Office booth dimensions vary depending on the specific model. Of course, if a pod is for four people to host private meetings, it's going to be a lot bigger than a model that's meant for one person. That is, if you're wanting to avoid a tight squeeze! 
Alongside the model we described above, MEAVO Offers three other office phone booths, each with differing dimensions. Let's break down our office booth sizes per product:
The Soho Workstation Office Phone Booth Size
Exterior Size: 2150mm H x 1000mm W x 1280mm D

Interior Size: 1975mm x 926mm W x 1218mm D
The Camden Two Meeting Pod Booth Size
Exterior Size: 2150mm H x 2100mm W x 1000mm D

Interior Size: 1975 mm H x 2024mm W x 937mm D
The Camden Four Meeting Pod Size
Exterior Size: 2150mm H x 2100mm W x 1280mm D

Interior Size: 1975mm H x 2024mm W x 1217mm D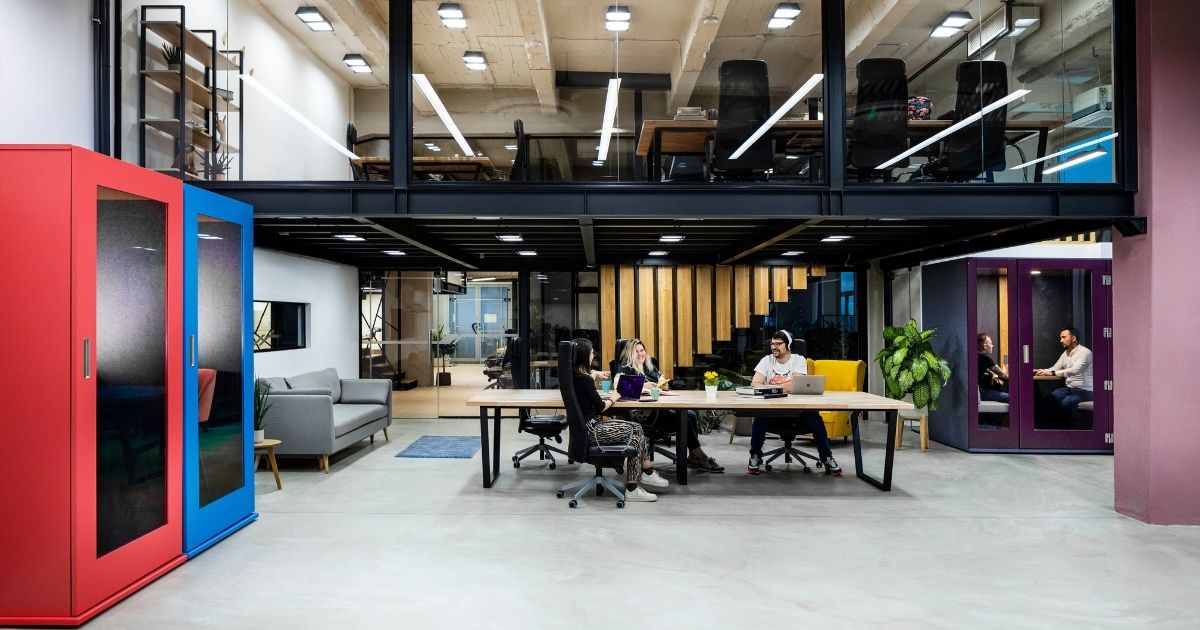 Which Office Booth Size is Best For You?
The office booth size that's best for your business is the one that fits into your space while delivering the maximum value. For example, if you want to streamline your meeting culture and employee wellbeing, you could focus on hosting regular 1:1s with managers and employees. By using a designated multi-person office meeting pod for these, you'll be able to put the space to better use.
However, if your business is fairly independent, then a smaller office pod might suffice better. Depending on the purpose of the pods, the best size office booth for you will vary.
How to Integrate Office Phone Booths into Existing Office Layouts
In order to best integrate office phone booths into existing office layouts, you should first question your employees. Asking for feedback on where they'd like the pods to be placed, which pod sizes would work best for them, and how many pods they think they need will give you a great starting place to develop a plan.
Depending on the results of your survey, you can then launch into action. Most of the time, it's a good idea to place a few office pods in a central location on each floor. As office pods as sound resistant, being in the center of the office doesn't hinder their effectiveness. 
What's more, by having a few pods on each floor, you allow your employees to readily come and go. The American Institute of Stress estimates that around 80% of employees feel stressed at work. If this is the case in your workplace, having a pod nearby will allow them to get up from their desk, move to a private space, and continue working in a relaxed atmosphere. 
Think of office phone booths as additions to a space, enhancing its capabilities and bringing additional benefits, rather than layout disruptors. 
Final Thoughts
When discussing how big an office phone booth is, businesses need to first specify which model they're discussing. The exterior size of a typical office phone booth measures 2250mm H x 1000mm W x 1000mm D, while models built for multiple people are larger.
Depending on your current office space, what you're looking for in the product, and how you intend to design your office, the right size office pod for you will vary. At MEAVO, we have a range of office phone booth sizes, helping businesses find the exact model that's right for them.
If your business would like additional help with model selection, reach out to our support team today.